Ground Chicken Recipes For Breakfast? Yeah! Forget about traditional breakfast options like eggs and bacon. Today I am about to disrupt what you think your morning meal should be.
These ground chicken recipes will elevate your morning meal. You'll have enough reasons, tips, and insights to make the first meal of the day your best one.
The Versatile Appeal of Ground Chicken for Breakfast
Ground chicken is a culinary chameleon, ready to take on a variety of flavors and textures, making it a fantastic choice for breakfast. Its mild taste provides a canvas for a wide range of seasonings, and its adaptability shines in everything from hearty bowls to savory burritos and flavorful omelets.
Health Benefits of Choosing Ground Chicken
Opting for ground chicken in your morning recipes brings a host of health benefits. It's a lean source of protein, making it an ideal choice for those looking to maintain or build muscle. Ground chicken is also lower in fat compared to some breakfast meats, making it a heart-healthy choice. Additionally, it's rich in essential nutrients like selenium, phosphorus, and B vitamins, providing a nutritious start to your day.
Tips for Cooking with Ground Chicken
Before you embark on your breakfast culinary journey with ground chicken, consider these tips to make the most of this versatile ingredient:
Handle with Care
Treat ground chicken with the same caution as ground beef or pork. Ensure it's cooked to an internal temperature of 165°F (74°C) to eliminate any risk of foodborne illness.
Season Liberally
Ground chicken's mild flavor benefits from generous seasoning. Don't be afraid to experiment with your favorite herbs and spices to create a unique breakfast experience.
Keep It Moist
Ground chicken can dry out during cooking, so consider adding moisture-rich ingredients like vegetables or sauces to your recipes.
Go Lean
When selecting ground chicken at the store, opt for ground chicken breast for the leanest option. Ground chicken thighs are more flavorful but have a higher fat content.
Now that we've established why ground chicken deserves a spot in your breakfast routine, let's explore these 17 mouthwatering recipes that will redefine your morning meal.
Ground Chicken Bowl Recipes For Breakfast
1. Savory Ground Chicken Breakfast Bowls
Start your day with a satisfying and savory breakfast bowl featuring ground chicken.
This ground chicken breakfast recipe promises a burst of flavors that leave you craving more. The combination of lean ground chicken, seasoned with sea salt, black pepper, paprika, and a hint of dried minced onion, creates a savory and satisfying base.
The subtle warmth of garlic powder, dried sage, and dried thyme adds depth to each bite, while a pinch of cayenne pepper provides just the right touch of heat.
This breakfast recipe offers a harmonious blend of spices that will kickstart your morning with a flavorful bang.
2. Ground Chicken and Vegetable Breakfast Hash
This hearty breakfast hash combines ground chicken with a medley of colorful vegetables for a nutritious and flavorful start to your day.
Begin with two tablespoons of olive oil and a tablespoon of minced garlic, infusing your dish with a delightful Mediterranean flair.
The star of the show is a sweet potato, peeled and transformed into a hearty addition to your meal. Complementing the sweet potato are finely diced red pepper and yellow onion, adding a burst of color and texture.
Now, let's talk protein. Ground chicken brings a lean and savory component to the dish, while four cups of deboned kale provide a nutritious twist. Don't forget the essential seasonings—generous dashes of salt and pepper to enhance the flavors.
3. Southwest-Inspired Ground Chicken Bowl
Embrace the flavors of the Southwest with this ground chicken breakfast bowl. It features Tex-Mex spices, beans, and creamy avocado for a breakfast with a kick.
Add a sunny fried on top and you have the perfect breakfast.
4. Ground Chicken and Quinoa Breakfast Bowl
For a protein-packed breakfast, try this quinoa and ground chicken bowl. It's a perfect choice for those looking to jumpstart their day with energy.
This dish combines an array of fresh and vibrant ingredients. Imagine the sweetness of corn, the zest of red bell pepper, and the savory allure of red onion, all harmonizing in a single, mouthwatering bite.
Enhancing the flavors are the aromatic hints of garlic and onion powder, along with a touch of cayenne pepper for a gentle kick. A tantalizing combination of low-sugar BBQ sauce and ground mustard powder adds a delightful tangy twist.
As if that weren't enough, the inclusion of quinoa ensures a hearty and wholesome meal. Finish it off with a sprinkle of reduced-fat cheddar cheese, and you have a recipe that promises a taste explosion you won't want to miss.
5. Greek-Inspired Ground Chicken Breakfast Bowl
Take a culinary trip to Greece with this Greek-inspired breakfast bowl. Ground chicken is seasoned with Mediterranean herbs and served with fresh tzatziki and crisp vegetables.
Light and satisfying. At the heart of this recipe lies a pound of lean ground chicken breast, ensuring a nutritious start to your meal. As you take your first bite, you'll encounter the burst of flavors from vibrant cherry tomatoes, crisp cucumbers, and the zest of a lemon, all dancing harmoniously on your taste buds.
The aromatic blend of ground coriander, oregano, and powdered garlic adds depth and richness to every forkful. But it's the zing of fresh dill and flat-leaf parsley that truly elevates this dish to gourmet heights.
A sprinkle of ground cinnamon and ground cumin brings a touch of warmth and complexity, while the briny notes of Kalamata olives and the creaminess of feta cheese provide the perfect contrast.
Ground Chicken Breakfast Burritos
Wrap up your breakfast in style with these flavor-packed ground chicken breakfast burritos.
6. Ground Chicken Breakfast Burrito
Keep it classic with this ground chicken breakfast burrito, featuring scrambled eggs, cheese, and your favorite toppings.
Golden potatoes, green and red bell peppers, vibrant cilantro, and zesty jalapeños, all dance together in a harmonious fiesta of flavors. Ground cumin adds a touch of earthiness, while freshly ground black pepper and salt elevate the dish to savory perfection. Don't forget the garlic, both fresh and in powder form, infusing every bite with aromatic goodness.
To assemble this breakfast marvel, scoop the flavorful mixture into whole wheat or gluten-free burrito-sized tortillas. Sprinkle generously with Mexican blend cheese, and for the final flourish, drizzle with your favorite salsa or enchilada sauce.
7. Ground Chicken and Spinach Breakfast Burrito
Add a healthy twist to your morning routine with this ground chicken and spinach breakfast burrito. It's a great way to sneak in some greens.
8. Tex-Mex Ground Chicken Breakfast Burrito
Spice up your breakfast with this Tex-Mex-inspired ground chicken burrito. It's loaded with bold flavors and a touch of heat.
9. Ground Chicken and Black Bean Breakfast Burrito
Combine ground chicken and black beans for a protein-rich breakfast burrito that's as filling as it is flavorful.
Ground Chicken Omelette Recipes
Elevate your breakfast with these innovative ground chicken omelets.
10. Ground Chicken and Mushroom Omelette
Ingredients:
1/2 lb ground chicken
1 cup sliced mushrooms (any variety you prefer)
1/4 cup diced onion
2 cloves garlic, minced
4 large eggs
1/4 cup milk
Salt and pepper to taste
2 tablespoons olive oil
1/2 cup shredded cheese (such as cheddar or Swiss)
Fresh parsley for garnish (optional)
Instructions
Heat a non-stick skillet over medium-high heat and add 1 tablespoon of olive oil.
Add the diced onions and minced garlic to the skillet and sauté for about 2-3 minutes until they become fragrant and translucent.
Add the ground chicken to the skillet, breaking it apart with a spatula as it cooks. Cook the chicken until it's browned and cooked through about 5-7 minutes.
Remove the cooked chicken mixture from the skillet and set it aside.
In the same skillet, add the remaining olive oil and the sliced mushrooms. Sauté the mushrooms until they become tender and start to brown, which should take about 5 minutes.
While the mushrooms are cooking, whisk together the eggs and milk in a bowl. Season with salt and pepper to taste.
Once the mushrooms are ready, return the cooked chicken mixture to the skillet and spread it out evenly.
Pour the egg mixture over the chicken and mushrooms. Allow it to cook without stirring for a few minutes until the edges start to set.
Carefully lift the edges of the omelet with a spatula to check if the bottom is golden brown.
Sprinkle the shredded cheese over one-half of the omelet.
Gently fold the other half of the omelet over the cheese-covered half.
Continue cooking for another 1-2 minutes until the cheese melts, and the omelette is fully cooked through.
Slide the omelet onto a plate, garnish with fresh parsley if desired, and serve hot.
11. Spinach and Feta Ground Chicken Omelette
Enjoy a Mediterranean-inspired breakfast with this ground chicken omelet filled with spinach and creamy feta cheese.
12. Mediterranean Ground Chicken Omelette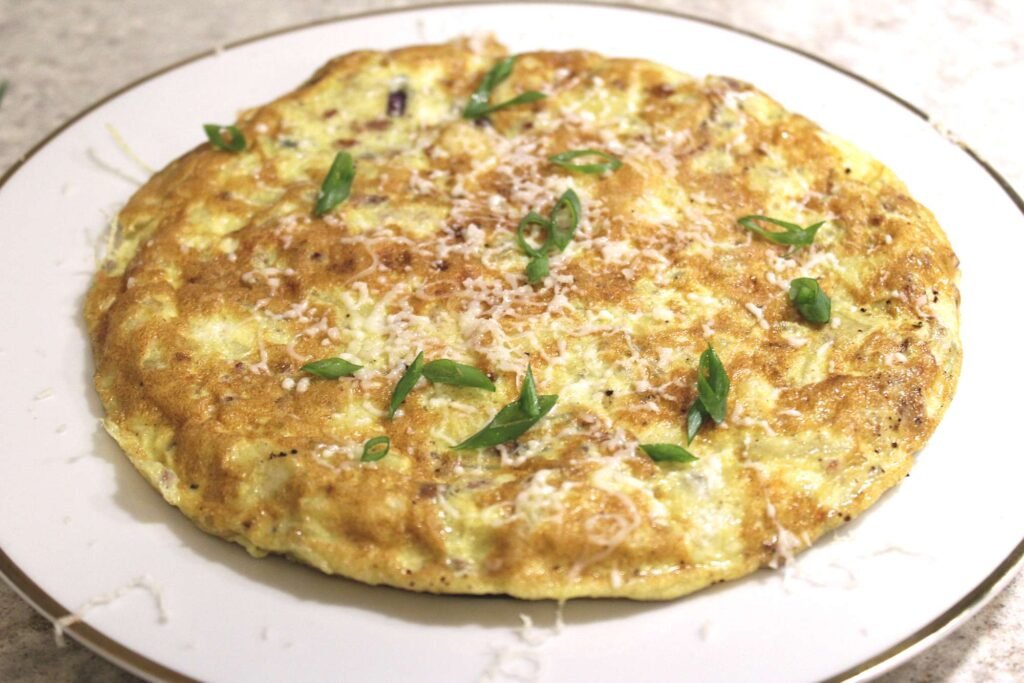 Travel to the Mediterranean with this ground chicken. Follow the recipe for the Spanish omelet here. Instead of bacon use ground chicken
Ground Chicken Breakfast Patties recipes
13. Crispy Ground Chicken Breakfast Patties
Savor the crispiness of these homemade ground chicken breakfast patties.
Indulge in the delectable world of Chicken Patties with this irresistible recipe. Crafted with care, these patties are a celebration of flavor and healthiness. With lean ground chicken as the star ingredient, you can relish every bite knowing it's both delicious and nutritious.
The medley of seasonings, from scallions to cayenne pepper and the aromatic toasted sesame oil, transforms these patties into a culinary masterpiece. For an extra touch of elegance, the optional Teriyaki sauce offers a sweet and savory glaze that elevates the entire dish.
Whether you're serving them as a hearty burger, a protein-packed salad topper, or a scrumptious appetizer, these Chicken Patties are sure to be a hit. So, why wait? Dive into the world of savory goodness and whip up a batch of these irresistible patties today. Your taste buds will thank you!
14. Homemade Ground Chicken Breakfast Sausage Patties
Craft your own breakfast sausage patties using ground chicken. They're packed with flavor and free from preservatives.
15. Ground Chicken and Sweet Potato Breakfast Patties
Add a touch of sweetness to your morning with these ground chicken and sweet potato breakfast patties.
16. Apple and Sage Ground Chicken Breakfast Patties
Experience autumn flavors year-round with these apple and sage-infused ground chicken breakfast patties.
17. Ground Chicken and Cheddar Breakfast Patties
Cheese lovers will adore these ground chicken and cheddar breakfast patties, oozing with melty goodness.
Hearty Ground Chicken Breakfast Casseroles Recipes
Enjoy a hearty breakfast with these ground chicken breakfast casseroles.
18. Ground Chicken and Hash Brown Breakfast Casserole
Start your day with comfort food in the form of this ground chicken and hash brown breakfast casserole.
19. Ground Chicken and Broccoli Breakfast Casserole
Add a dose of greens to your breakfast with this ground chicken and broccoli breakfast casserole.
20. Spinach and Ricotta Ground Chicken Breakfast Casserole
Indulge in Italian flavors with this spinach and ricotta-infused ground chicken breakfast casserole.
21. Ground Chicken Mexican Breakfast Casserole
Experience the fresh ground chicken breakfast casserole. It's like a bite of summer in every bite.
Flavorful Ground Chicken Breakfast Skillets Recipes
Fire up your skillet for these flavor-packed ground chicken breakfasts.
22. Ground Chicken and Sweet Potato Breakfast Skillet
Satisfy your morning hunger with this ground chicken and sweet potato breakfast skillet.
23. Ground Chicken and Eggs Breakfast Skillet
Kickstart your day with bold flavors in this ground chicken and eggs breakfast skillet.
24. Ground Chicken Cowboy Breakfast Skillet
Substitute the sausage for the ground chicken and follow this recipe. It's delicious and filling. You won't miss the sausage at all.
Quick and Easy Ground Chicken Breakfast Tacos
Wrap up your morning meal with these quick and easy ground chicken breakfast tacos.
25. Ground Chicken and Egg Breakfast Tacos
Get a protein-packed start to your day with ground chicken and egg breakfast tacos.
26. Ground Chicken and Avocado Breakfast Tacos
Prepare your ground chicken using this tako recipe and add it to the taco shells of your choice or even over bread.
Other Ground Chicken Recipes
27. Ground Chicken breakfast Empadadas
Prepare these ones beforehand and enjoy them first thing in the morning. They are so delicious you won't mind the extra word.
28. Ground Chicken Breakfast Sloppy Joes
29. Ground Chicken Breakfast Crunchwrap
You might want to explore Mexican chicken recipes for tacos
Last Thoughts
So, breakfast is about to become your favorite meal of the day with these 29 delicious ground chicken recipes.
From savory bowls to flavorful burritos, innovative omelets, crispy patties, hearty casseroles, sizzling skillets, and quick tacos, there's something for every breakfast lover.
Embrace the versatility of ground chicken and transform your morning meal into a culinary adventure. It's time to elevate your breakfast and experiment with these mouthwatering recipes that will make you look forward to waking up.
Enjoy!!