Picky eating habits can be a puzzle to navigate, especially when you're trying to whip up meals that both satisfy the discerning palates of picky eaters and offer wholesome nutrition. I know that firsthand. That is why today I bring you 35 Ground Beef Recipes for Picky Eaters.
From comforting classics to creative twists, we've got a collection of mouthwatering recipes designed to win over picky eaters of all ages.
Get ready to explore recipes that will have everyone at the table asking for seconds!
Quick and Easy Ground Beef Recipes for Picky Eaters
Classic Comforts with a Twist
1. Classic Hamburger with a Flavorful Twist
Let's start with a timeless favorite – the hamburger. But hold on; we're not talking about your run-of-the-mill patty here. Discover how a simple twist can elevate this classic comfort food into a culinary masterpiece that will leave even the pickiest eaters craving for more.
2. Homemade Sloppy Joes: Picky Eater Approved
Sloppy Joes are a tried-and-true comfort food, but we're putting a spin on this American classic that'll make it irresistible to all family members. Learn how to strike the perfect balance between saucy and savory in this Picky Eater-approved recipe.
3. Beef and Cheese Stuffed Bell Peppers
For those who crave a blend of textures and flavors, these beef and cheese stuffed bell peppers are the answer. Discover the art of creating a dish that's not only visually stunning but a symphony of tastes that even the fussiest eaters will relish.
4. Mini Meatloaves: Bite-Sized Comfort
Meatloaf is the epitome of comfort food, but sometimes its sheer size can be intimidating for picky eaters. Mini meatloaves, where portion control meets big flavor. Learn how to craft these bite-sized morsels of savory goodness that'll have everyone asking for seconds.
Tasty Taco Creations
Taco Tuesday, Anyone?
Taco night is a beloved tradition in many households, but how do you make it a hit with picky eaters? Explore inventive ways to customize tacos to cater to individual preferences while keeping the essence of Taco Tuesday alive and well.
5. Baked Tacos
This Baked Taco Recipe is a winner for everyone, including picky eaters! You can choose between ground beef or tender shredded chicken as your base.
These scrumptious tacos come topped with gooey cheese and can be customized with your favorite taco fixings.
Just wait until you savor the creamy, expertly seasoned meat filling, enhanced by my secret ingredient that truly elevates the flavor.
6. Tacos Dorados
If you don't want to use the oven and your picky eater loves all things fried, this recipe is a must-try.
Tacos Dorados, where delectable taco filling is snugly tucked inside and then pan-fried to achieve a crispy, golden perfection. These tacos are quick and effortless, making them an ideal weeknight dinner option. They also offer a delightful twist for a ground beef recipe for picky eaters.
7. Taco Bell Gordita
Gorditas consists of a warm, soft flatbread filled with flavorful ingredients like seasoned ground beef, grilled chicken, or other protein options, along with a combination of fresh lettuce, diced tomatoes, cheese, and a creamy, savory sauce.
The flatbread is slightly thicker than a traditional tortilla, giving the Gordita its distinctive texture and name, which means "little fat one" in Spanish. It offers a blend of flavors and textures in each savory bite. Kids love it.
8. Taco Pie
Taco pie is super easy and quick to prepare and you can use the same ground beef as your taco night. Make sure you buy premade pastry so your pie is ready in time when you see the first clue of a hungry. That is the perfect time to offer them food.
9. Puffy Tacos
Puffy tacos have taken the taco scene by storm, offering a delightful variation for Taco Tuesday enthusiasts. Say goodbye to the conventional taco shells, these inventive delights feature puffed pastry pockets generously filled with flavorful seasoned ground beef, then baked to achieve an irresistible, airy lightness. Best part your kid will love it.
Kid-Friendly Casserole
Transform the flavors into a kid-friendly casserole that's not only delicious but also a breeze to make. Uncover the secrets to creating a dish that merges the best of both worlds – the convenience of a casserole and the beloved taste of tacos.
10. Mexican Ground Beef Casserole
Fusion cuisine meets comfort food in this recipe. the hearty and filling meal that's packed full of fun kids will love. Discover how to create a dish that's not only visually enticing but also a flavor-packed delight that will make picky eaters ask for seconds.
11. DIY Burrito Bowls
Personalization is the name of the game when it comes to catering to picky eaters. Dive into the world of DIY taco bowls and learn how to set up a taco bar that lets everyone craft their own customized masterpiece, ensuring that everyone leaves the table satisfied.
12. Ground Beef Casserole
Simplicity, convenience, and delicious that's what describe this easy ground beef casserole. You can also camouflage some veggies on this casserole so make sure you don't lose that chance.
13. Cowboy Casserole
Cowboy Casserole is an easy kids-approved dinner with ground beef, corn, cheddar cheese, and sour cream topped with crispy tater tots. Not only is delicious but is also eye-catching, Look at that mouth-watering picture
14. Baked ground beef Burrito Casserole
This delicious casserole reminds me of a lasagna, but it has burrito ingredients. This casserole is packed with nutrients and is caloric high, which is perfect to fill up a picky eater.
Pasta Pleasures
15. Spaghetti and Meatballs
Spaghetti and meatballs – a classic combination that's beloved by many. But how do you make it a hit with picky eaters? Explore the nuances of creating a crowd-pleasing dish that's as comforting as it is flavorful.
16. Creamy Beef Stroganoff with ground beef
Stroganoff, with its creamy sauce and tender beef, has a richness that's hard to resist. Learn to craft a creamy beef stroganoff that's not only a surprise for the taste buds but also a comforting favorite for picky eaters.
17. Cheesy Beef and Noodle Casserole
Casseroles are a fantastic way to blend flavors and textures seamlessly. Check out This cheesy beef and noodle casserole and learn how to create a dish that's cheesy, savory, and an absolute hit with the whole family.
Asian-Inspired ground beef recipes for Picky Eaters
18. Teriyaki Beef Stir-Fry: Sweet and Savory
Bring the sweet and savory flavors of teriyaki to your dinner table with a beef stir-fry that's sure to please even the pickiest eaters. Discover the art of balancing flavors and textures in this Asian-inspired delight.
19. Beef and Broccoli: A Stir-Fry Sensation
Stir-fry is a quick and versatile way to prepare a meal that's packed with flavor. This dish combines tender ground beef, crisp broccoli, and a savory sauce. If your child doesn't like broccoli skip this recipe. Mine loves broccoli, that's why I included it.
20. Easy ground Beef Fried Rice
Fried rice is a comfort food loved by many. Explore the art of crafting easy beef fried rice that's simple to make yet incredibly satisfying. Learn how to create a dish that's the epitome of Asian-inspired comfort.
21. Korean Beef Bowls: A Flavorful Adventure
This flavorful Korean ground beef bowl is a fusion of sweet, savory, and spicy flavors. Bowls like this are the secrets to creating a dish that's a hit with both adventurous eaters and picky palates.
Finger Foods and Snacks ground beef recipes for picky eaters
22. Beef and Cheese Quesadillas
Quesadillas are a go-to snack or meal option for many families. Learn to make these beef and cheese quesadillas that are not only quick and easy to prepare but also irresistible to picky eaters.
23. Homemade Beef Sliders: Mini Burger Magic
Miniature delights pack a punch in the flavor department. Learn how to create homemade beef sliders that are not only adorable but also bursting with big, bold flavors that will leave everyone craving more.
23. Crispy Beef Tender taquitos
Crispy beef tenders are a crunchy treat that's hard to resist. Delectable morsels that combine tender beef with a crispy coating, make them a favorite snack for picky eaters and beyond.
24. Beefy Stuffed Potatoes
Potatoes and beef – a match made in culinary heaven. Beefy stuffed potatoes are not only a visual delight but also a comfort food favorite that's perfect for picky eaters.
25. Beef Empanadas
This Simple ground beef Empanada Recipe is ideal for both adventurous eaters and picky eaters alike. They are ready in 30 minutes and are a fantastic choice for a speedy weeknight meal that pleases all palates.
You can make them beforehand and have them ready for your kid's lunch pack or dinner. They are a good source of carbs and proteins.
Sneaking in Veggies
26. Hidden Veggie Meatballs
Sneak in the goodness of veggies with hidden veggie meatballs that are as nutritious as they are delicious. Discover how to create meatballs that are packed with flavor and secretly infused with veggies.
27. Veggie-Loaded Beef Chili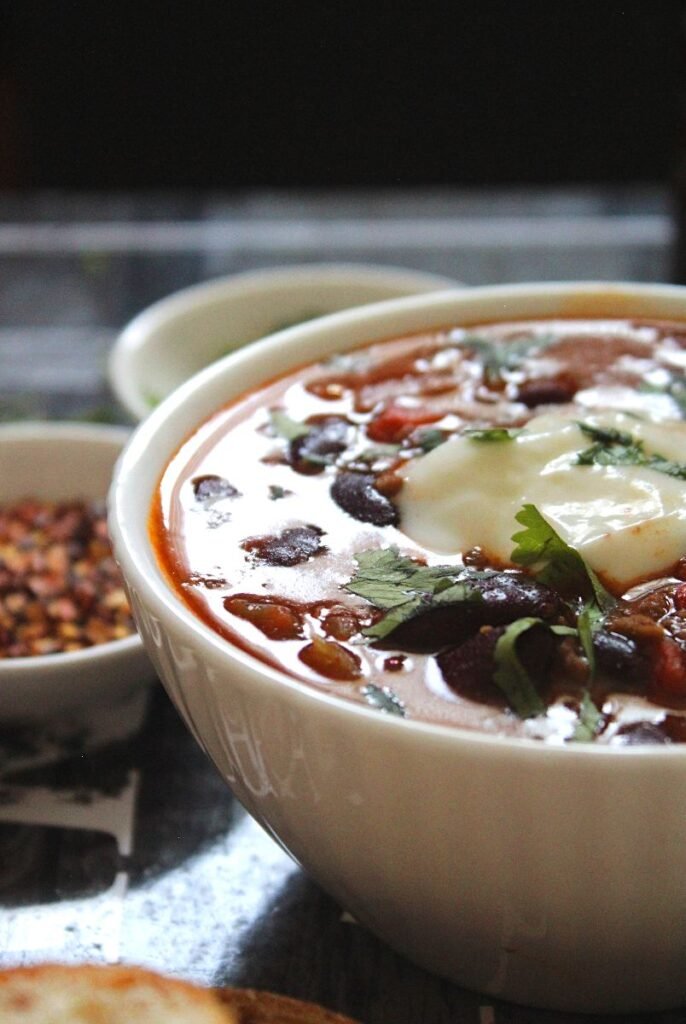 Chili is a hearty comfort food, and it's even better when it's loaded with veggies. Explore the art of creating a veggie-loaded beef chili that's not only healthier but also tastier, making it a hit with picky eaters and health-conscious individuals alike.
Other Ground Beef Recipes For Picky Eaters
28. Ground Beef Lasagna Recipe
My son loves lasagna and you can't get anyone picker than him. This ground beef lasagna recipe is super easy to make. It's a version of the classic one but it has my twist on it. I am sure you will love it too.
29. Ground Beef Pasta
Simplicity doesn't have to mean boring. That's the case with this recipe. We love this one at home and it's kids approved. Your kids will get its dose of carbs, and protein and won't resist eating.
30. Stuff Tostones with Ground Beef
Save this recipe of Stuff Tostones for a especial occasion. It takes some extra work, but you won't regret it. You can fill it with ground beef as the original recipe or you can use it as a canvas to add your child's favorite fillings. The crispy plantains enhance anything you put in it.
Do not disregard this classic comfort food. It's a great choice for the whole family especially for those who resist eating 😉
32. Patty Melt
If you ever feel guilty of feeding your child too much-grilled cheese, this patty melt is the solution for you. My only wanted grilled cheese until he tried this recipe. Is a lifesaver. Easy and delicious
33. Corn Fritters
Everybody loves fried things, let's admit it, They are delicious. Just imagine corn fry, what can that do for your picky eater? You can get creative and add you own twist to this recipe.
34. Mac and Cheese with Ground Beef
Another classic reimagining.
35. Cheesy Enchiladas
Last Thoughts
Transforming the Dinner Table: Success with Ground Beef for Picky Eaters, means creating meals that cater to picky eaters doesn't have to be a daunting task.
With these ingenious ground beef recipes, you can transform mealtime into a delightful adventure, where even the most discerning palates are left satisfied.
I can only wish you the best of luck and patience, I know it can be challenging to deal with a picky eater.